Manchester City striker Carlos Tevez has branded Gary Neville an 'idiot' and admits his goal celebration in the Carling Cup was directed at his former team-mate.The Argentina international scored twice against Manchester United in the Carling cup semi-final first leg on Tuesday, putting City in the driving seat going into next week's game at Old Trafford as they claimed a 2-1 win.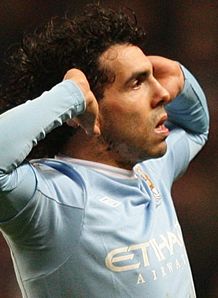 Tevez netted City's equaliser from the penalty spot three minutes before half-time, and he ran to the touchline to exchange gestures with United fans' favourite Neville
during his celebration.
Tevez made a gesture for Neville to keep his mouth shut before cupping his hands behind his ears, in response to comments from Neville that he was not worth the money City spent on him, and the defender then hit back with a rude gesture.
The 25-year-old, who moved from United to City for £25.5million last summer, admits he had to contain himself in his celebration, but revealed he was directing his actions towards Neville.
"In all the press here, Gary Neville came out and stood by (Sir Alex) Ferguson's comments, saying that I wasn't worth 25million," he told Argentinean radio.
"I thought he was in the wrong because we were team-mates and I never disrespected him, I always respected him.
"I feel he was a boot-licker when he stood by Ferguson's comments that I wasn't worth that money.
"From a former team-mate it hurts, from a coach it doesn't surprise me.
"I would never do that gesture towards the fans, I would never show a lack of respect towards people. It was directed at Gary Neville.
"Just as I was running off to celebrate the penalty I had scored, I came across Gary and I said to myself, 'shut your trap, keep quiet'.
"I didn't go overboard in my celebration and it was directed at Gary, not at Ferguson and not at the fans. I didn't even look at Ferguson.
"You have to do your talking on the pitch. I know that Ferguson loves me, that's why he always talks about me."
The former Boca Juniors, Corinthians and West Ham striker admits he was upset when he first heard of Neville's newspaper comments.
"I was the first to sit down to have lunch in the team hotel and all the papers were laid out," he added.
"I looked at them as, although I couldn't read them, there were (photos) of Gary Neville and they were talking about me.
"Then I asked my team-mates what it said.
"I thought to myself, 'what's this idiot talking about me for when I never said anything about him, when there was never any (problems) with us?'
"It was a lack of respect for a (former) team-mate, aside from the fact that we had won a lot of things together.
"Thank God I had the chance to get revenge with City, although there is still the second leg to come."